We need Clean, Safe, Air.
Safe Air Machines clean indoor air every 60 seconds.
Ordinary air purifiers clean only 2 to 5 times an hour.
We need Clean, Safe, Air.
Safe Air Machines clean indoor air every 60 seconds.
Ordinary air purifiers clean only 2 to 5 times an hour.
We need Clean, Safe, Air.
Safe Air Machines clean indoor air every 60 seconds.
Ordinary air purifiers clean only 2 to 5 times an hour.
Powerful Air Technology
A whole new kind of air cleaning.
Meet the Safe Air Machine air cleaner.
Safe, Quiet and Powerful
Safe Air Machines are the only purifiers that uses quiet HyperPowered fans to pull all the air in your room through a HyperFiltration system, every 60 seconds. If someone is painting, grinding, or welding, the dust effects will have been pulled through the filters within a minute. There is absolutely no other product on the market that can comfortably circulate and sustain the air quality numbers as Safe Air Machines.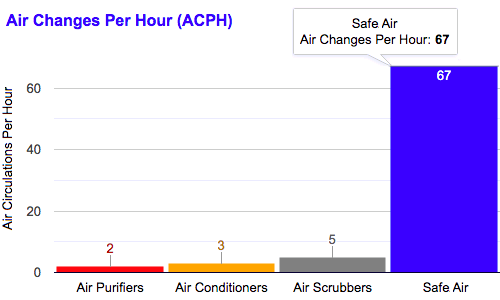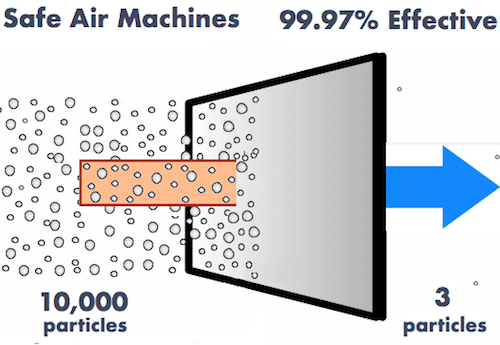 Every 60 seconds the airborne particles are removed. That includes smoke, dust, mold, viruses and other microbes. At 99.97%, for every 10,000 particles flowing into it only about 3 escape.
Tough on dust, smoke & viruses.
Easy on you.
Safe Air Machine's superior Hyper-Powered fans maximize air circulation at great distances and from top to bottom of the room continuously, maximizing air ventilation and filtration in public places. This prevents air stagnation and increases the chances of capturing airborne germs prior to the point of exposure. Safe Air Machine's HyperFiltration can even capture SARS-CoV-2, the virus that caused COVID-19.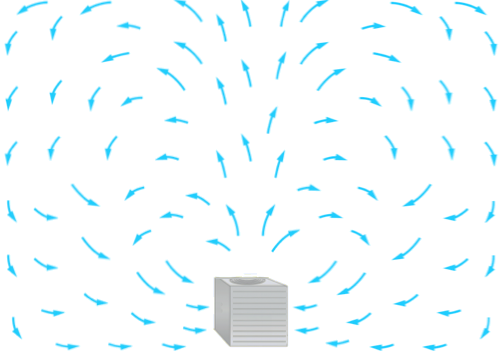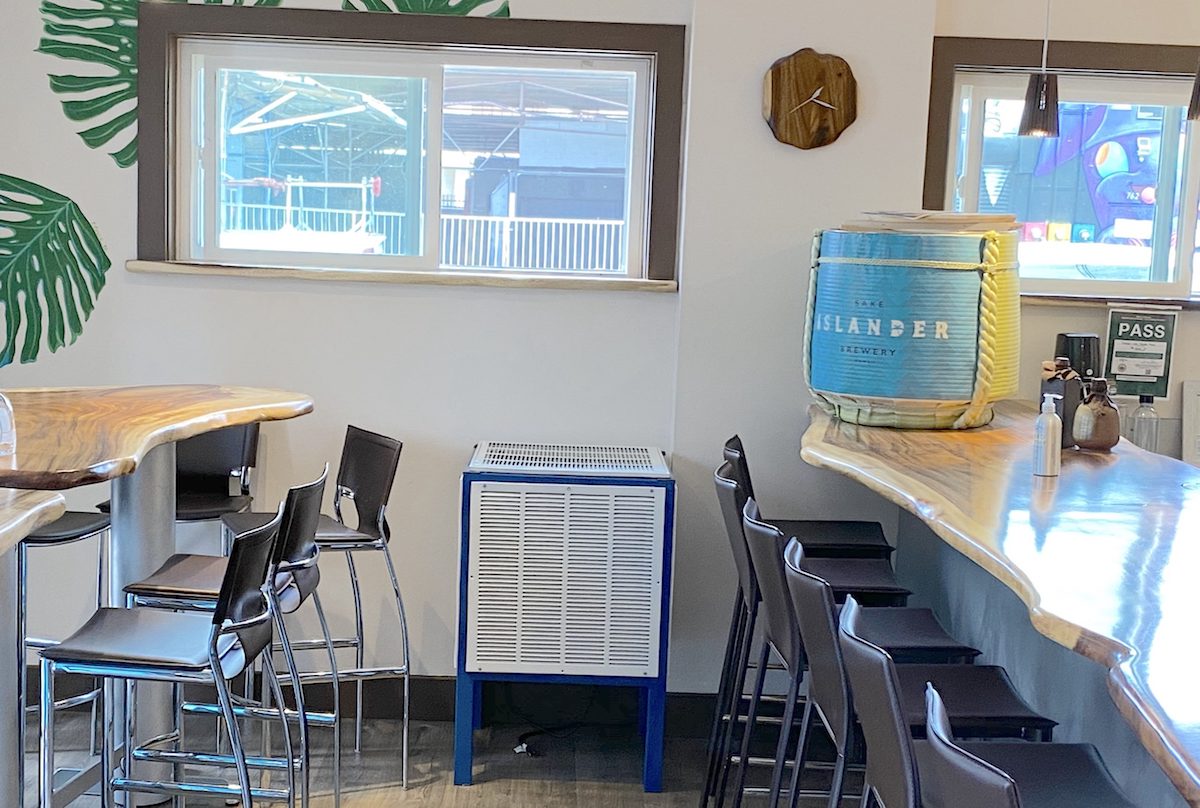 Easy to Use.
Safe Air Machines offers plug-and-play protection. These air purifier units can roll easily on wheels, it can be stood up vertically, or installed near your ceiling. Safe Air Machines comes in a variety of sizes, and all units are made in the USA. Each unit can be customized to fit any space and situation with regards to room size and number of occupants. We offer delivery, installation and maintenance options to best accommodate your situation and requirements.
Contact us
to discuss your air safety quality needs.
Ion Charged (optional)
For additional air quality, Safe Air Machines can include a certified
Sterionizer™ ionizer device
inside. The Sterionizer™ generates positive and negative ions — just like those found in nature — that purify and freshen indoor air by eliminating the harmful pollutants. The Sterionizer™ is a compact electronic module that can be included inside Safe Air Machines for an additional cost.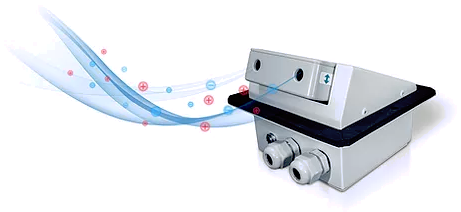 UVGI Disinfection
For ultimate air quality, Safe Air Machines safely use Ultraviolet Germicidal Irradiation (UVGI) that effectively kills microorganisms (viruses, bacteria, mold) inside the filters, thereby minimizing transmission of a variety of airborne infections in occupied public spaces. The CDC recommends the use of UVGI as one of the effective technologies to minimize the spread of airborne microorganisms.
Testing Certifications
Safe Air Machines have been tested by certified third-party laboratories. Please visit safeairmachines.com/testing for the details.
Safe Air Machine Features
• Quickly removes small airborne particles from large volumes of air in rooms (offices, classrooms, etc).
• Circulates all the air in the entire room in less than a minute.
• True HEPA and Hyper-Filtration that are certified to remove 99.97% of airborne particles (including viruses, smoke, etc).
• Extremely efficient fans designed to maximize air circulation.
• Easy to service, clean, and maintain.
• Made in the USA with the highest quality craftsmanship and construction.
• All components are UL listed for nationally recognized Standards for Safety.
• One standard power cord included for residential usage.
• Four wheels or hanging mounts options available upon request.
• Limited five-year warranty.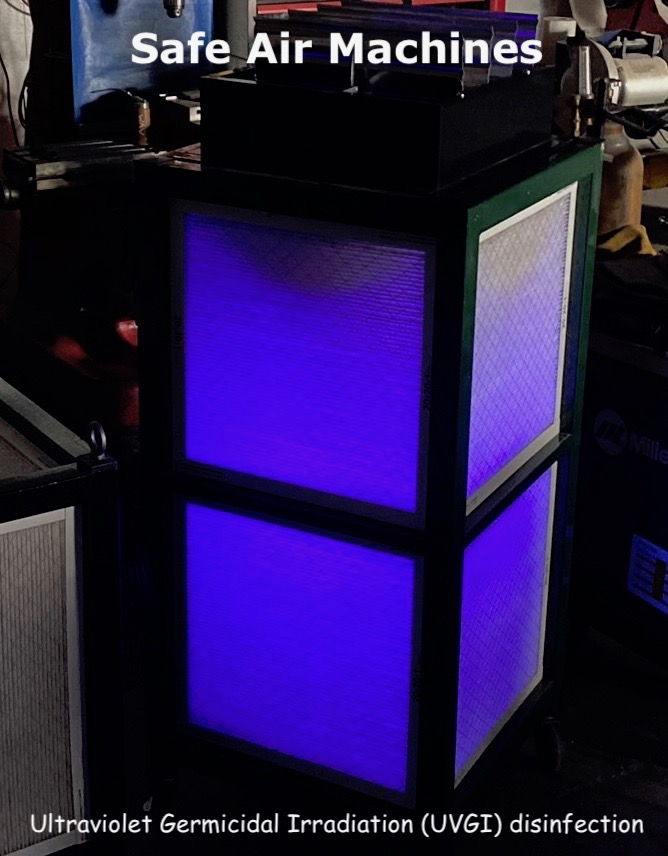 News Updates
• June 9, 2023: The air in New York City on Wednesday wasn't just bad by the city's standards. It was historically bad. The chart above shows the concentration of a particularly dangerous kind of air pollution according to provisional data measured by the New York City Community Air Survey and the state's Department of Environmental Conservation from a network of sensors around the city. Those sensors measured levels of particles 2.5 microns in diameter or smaller, brought by wind from wildfires in Canada. Wednesday's daily average was the highest since recording in New York began in 1999, according to data compiled by the Environmental Protection Agency. (The second-highest level was on Tuesday.) Wednesday's level of pollution was also higher than the worst daily average record in San Francisco — on Nov. 16, 2018, when wildfires were blazing in Northern California — and, at its peak, it approached average pollution levels recorded in Portland, Ore., on Sept. 13, 2020, during the worst of its pollution from nearby wildfires. See:
https://www.nytimes.com/interactive/2023/06/08/upshot/new-york-city-smoke.html>

• The US Centers for Disease Control and Prevention updated their
guidance
page saying the main way coronaviruses spreads is through respiratory droplets or small airborne particles produced when an infected person coughs, sneezes, sings, talks, or breathes, which can be inhaled into the nose, mouth, airways, and lungs and cause infection to others. Airborne transmission is infection spread through exposure to those virus-containing respiratory droplets comprised of smaller droplets and particles that can remain suspended in the air over long distances (usually greater than 6 feet) and time (typically hours).
•
NASA study of HEPA filtration
explains why HEPA filters are very efficient (almost 100% at 0.01 micron) at capturing ultra-fine particles below the 0.3-micron HEPA test standard.
• The West Coast is in urgent need of help where California, Oregon and Washington wildfires burning homes and creating dangerous air quality. Air quality in Seattle, Portland, San Francisco, and Los Angeles is some of the worst in the world. The Centers for Disease Control and Prevention has warned that "Wildfire smoke can irritate your lungs, cause inflammation, affect your immune system, and make you more prone to lung infections, including SARS-CoV-2, the virus that cause COVID-19." Studies have shown that the rate of hospital visits rises and many of the additional patients experience respiratory problems, heart attacks and strokes when the waves of smoke hit.
• Safe Air Machines
Photo Gallery
featuring some of our different sizes. Each machine can be customized to fit any space and situation with regards to room size and number of occupants.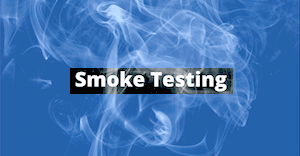 Smoke Test.
Check out this
SMOKE TEST
video from on one of our early prototypes that proves how quickly Safe Air Machines can clean all of the air inside a music studio much faster than any other portable air cleaner. This early prototype cleaned the whole 1,300 cubic ft. music studio in two minutes. Since then, we have more than doubled the cleaning speed by using more efficient fans and filters. Stay tuned for our next smoke test that we will post here soon.
[Learn More]